Marketing expertise.
Strategic solutions.
Proven success.
---
Ranie proactively approached me with several ways to increase relevance with my target audience. Many of those concepts have been implemented with great success … Ranie remains a sounding board for ideas and insight.

Ranie is incredibly intuitive. She approaches marketing with a focus on the bottom line that yields a steady supply of creative solutions.

Ranie helped us strategize and execute beyond a single day's success. The integration of multiple marketing disciplines within a ten-week campaign translated to greater customer loyalty and double- and triple-digit sales increases across the state.
Meet Ranie
Owner and Marketing Strategist
For two decades, Ranie Good has been deeply committed to helping companies increase the visibility, influence, and sales of their products and services.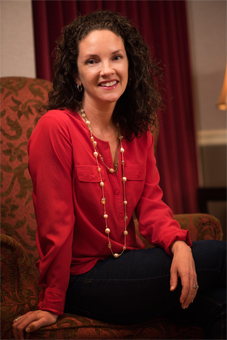 With a background in marketing, advertising and new business development, she addresses client needs with critical problem-solving skills, business insight and creativity—resulting in successful solutions.
Ranie began her career in Public Support with the South Carolina Chapter of the American Red Cross. Working for an international brand with limited local resources developed expertise in many areas including marketing and communications, coalition building, public relations, fundraising and event planning.
Ranie was then recruited to the Leslie Advertising Agency in Greenville, South Carolina. There she spent seven years managing accounts such as Sprint PCS, Palmetto Bluff, The Cliffs Communities, First Citizens Bank and Marks & Morgan Jewelers. Ranie served in a variety of industries including wireless telecommunications, banking, luxury real estate, and retail while helping acquire new business.
In 2004 Ranie was again recruited to IMI, a former client marketing luxury residential real estate in three countries. There she supported $3 billion in sales through the development of marketing materials including websites, direct mail, sales collateral and events. She then returned to her ad agency roots at Erwin-Penland, a Hill-Holiday agency, managing the Verizon wireless print marketing for the southeast United States.
In 2010, Ranie moved to Delaware and opened Strategic Goods. As Owner and Marketing Strategist, she helps medium-sized businesses and non-profit organizations seek greater support of their missions through integrated marketing plans.
Through Strategic Goods, Ranie offers expertise in:
Strategic Planning / Marketing
Budgeting / Reporting
Client / Vendor Relations
Team Leadership
Timeline Development
Project Management
Relationship Development
Information Gathering / Research
New Business Development
Good Process
Learn what it's like to partner with Strategic Goods.
Research + Review
First, we'll sit down and review your business goals. From there, we will agree on your marketing goals and investment. Part of this step is about learning from past and current conditions, and may involve market research.
Strategize
Strategic Goods will create marketing recommendations for presentation and testing. We will also work together to prioritize initiatives, and discuss timing and a budget for implementation.
Implement
This is the fun part, when we put the strategy and planning into action. Sometimes Strategic Goods will directly assist with implementation, while in other situations we will recommend specialty resources for this stage.
Follow Up
After implementing the plan, it's important to determine if it achieved the goals. This stage involves establishing and analyzing measurements to determine the success of your marketing programs.
Good Work
See what Strategic Goods has done for other organizations
---
Bobbie Brooks, Marketing Director of SSD Technology Partners, partnered with Strategic Goods to translate tech-speak into a positive brand story that described the company and the products in a digestible way. "We met through a colleague,

[…]

In 2009, Dawn Schumaker, licensed CPA, began her own accounting business, DMS Solution. After a year of taking on unrelated projects, and plenty of tax filing, Dawn felt she could better serve her clients through long-term

[…]

"With great service and a genuine family feel, my customer base was loyal and my business was doing well. I wanted to reach even more people to invite them into the fold, but traditional 'ads' weren't

[…]

When the The Rodel Foundation of Delaware found itself in the challenging position of taking on more complex projects with fewer staff members, they looked to Strategic Goods for help. Madeleine Bayard, Vice President of Policy

[…]

"Ranie's greatest strengths are her communication skills, including her ability to listen," says Barry Schlecker, festival organizer. When Barry hired Ranie to help him revive a popular state festival in Delaware, he knew she would be

[…]

When the Delaware Office of Early Learning received a grant to raise awareness of the importance of early childhood education, Ranie was instrumental in building the organization from the ground up. She not only helped develop

[…]
Good Insight
Learn from Ranie's expertise and get the latest insight from Strategic Goods
Phone
864.275.0047
Email
Address
2 Rockford Road | Wilmington, DE 19806